The eight campuses of Montessori West set children up for a lifetime of success.
In September 1974, Montessori teachers Cynthia Leahy and Naseem Meer held the first Montessori preschool class. It was held in a rented classroom at Our Savior Lutheran Church in Fremont, CA.
What started in a single classroom has grown to seven locations throughout the South and East Bay. Our schools have overseen the education of over 5,000 children. We employ over 100 people and care for over 500 students.
Today, Montessori schools continue to set children up for a lifetime of success. 
The children in this photo of a Montessori classroom are now in their forties. They include a physician, two attorneys, six engineers, a real estate executive, and a college professor.
Each classroom, depending on the level, can have up to three (including two assistant) teachers. Students of varying ages intermingle and learn from and with each other. An uninterrupted period of work time each morning and afternoon called the Work Cycle, is a chance for students to interact with the carefully prepared Montessori environment in self-directed work.
The multi-age classroom is an essential component of Montessori philosophy. As opposed to traditional schooling, which often features stand-alone classrooms of students all the same age, Montessori classrooms value the lessons and experiences that grouping students of varying abilities and interests can offer. Older students gain responsibility and confidence as role models, and master the skills they've learned by teaching and helping others. Younger students are exposed to more advanced language and vocabulary through interaction with their peers.
They also have the opportunity to observe their peers' more complex lessons and develop the intrinsic motivation to reach that interesting work. Because all students' instruction is individualized, those who need more time to master a concept can spend time doing so, while those who are enthusiastic about moving ahead can forge on. This variation in abilities is the expectation, not the exception, which helps reduce unhealthy competition and comparison between students.
Demonstration of Learning
Students are assessed on their knowledge of particular concepts (which align with standards) on a continual basis. Teachers track their students' learning daily and weekly, recording their progress. The scope and sequence of Montessori materials is based on a scaffolding system, in which each lesson builds on the one before it. In order to have success in understanding a concept, students must first have a solid foundation and mastery of the previous concepts. Our educators serve as guides through this self-guided learning process. 
Montessori-Certified Teachers
Each classroom from toddler to elementary aged children has a lead teacher. Lead teachers are all Montessori certified or are in the process of working toward their certification. The training of our teachers requires that they develop expanded observational skills so they can match their students' developmental needs with appropriate materials and activities. They must also master teaching and classroom leadership skills that foster a nurturing environment and support learning.
Her [the teacher's] aim is rather to suggest than to dictate. She stands behind the child, not in front of him; she does not so much lead the child as follow him. 'She gives a ray of light and passes on.'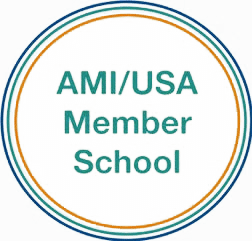 All of our campuses adhere to the most stringent Montessori standards and unite with the Association Montessori International.
All of our campuses adhere to the most stringent Montessori standards.

Good teachers and discipline in school. Having good experience with Ms. Dorella in particular.
So impressed with the vocabulary and social skills my 3 year old niece has learned since she started school. I was so confused when she told me about her favorite "sound." Turns out they introduce reading and writing by how letters sound and tracing their shapes. How cool is that? Keep up the good work!
My son is 3 years old and has been going here for the past year. He absolutely loves his teacher, I could not be happier with the learning practices and I have seen a huge improvement in my sons development. This school was definitely the right choice for our family.