Montessori Elementary School in Fremont
Characteristics of An Authentic Montessori Elementary School Program
Our Elementary program inspires academic excellence and encourages each child's curiosity, creativity, and imagination. Montessori elementary education is based in the understanding that children at this level are in a stage of great social, moral, and intellectual development characterized by: 
Students continuing from our Children's House programs will find a familiarity with opportunities for more complex learning, and students who are new to Montessori feel quickly at home. Students learn to think for themselves as they answer questions that challenge them. They conduct research, analyze what they have found, and come to conclusions based on what they discover. 
Like primary, multi-age classrooms continue in our elementary program. The mixed age group dynamic provides older students the opportunity to take on mentor and leadership roles within the classroom. Younger students are able to observe the examples of leadership in their older classmates and strive to become the leaders in the classroom as they mature through the program. The flexibility of the mixed age classroom environment is advantageous for students who need to be challenged academically and also for students who may need more time to master new concepts.
Teachers as Guides for Independent Student Learners
Teachers serve as mentors by empowering students to have a voice. Our Montessori elementary staff members are approachable, encouraging, and are thoughtful in when and how they offer help to their students. Elementary students develop the skills to take responsibility for their own education by learning to organize their time, make independent work choices, and participate in the classroom community. Teachers monitor student progress based on AMI Montessori established expectations for students' academic and social emotional learning.
Rich, Integrated Curriculum
The core Montessori curriculum provides instruction in all traditional subjects – reading, writing, language studies, math, history, geography, science, music, art, and physical education – in an integrated way. Students work with specialized, hands-on materials moving from concrete to abstract thinking in an individually paced curriculum. 
Responsibility, integrity, honesty, kindness toward others, social responsibility, and respect to all are fostered in real-life scenarios and brought to fruition through years of interaction in a loving and caring community of adults and fellow students. Students practice skills of communication, conflict resolution, and community participation & responsibility with the goal to become engaged citizens of the world. 
"Going Out" enriches our Montessori curriculum, and teaches students to expand their environment to the greater community and how to connect to their interests and the resources in it. These experiences provide our students with the skills to reach out and explore all that is around them. 
Inclusion of 6th Grade in Upper Elementary
Our Upper Elementary 3-year age grouping intentionally includes 6th graders as the oldest students in the age-span. This allows students to complete the cycle of being the youngest, middle, and then oldest leaders within the classroom community. 
Read more HERE about the benefits of the full 3-year cycle specifically in Upper Elementary. 
The secret of good teaching is to regard the child's intelligence as a fertile field in which seeds may be sown, to grow under the heat of flaming imagination.
Plant the Seeds for A Lifetime of Learning in Your Child Today.
Give your child the advantage of a lifelong love for learning by enrolling them in a Montessori school. Certified Montessori teachers will oversee your child as they immerse themselves in hands-on experience.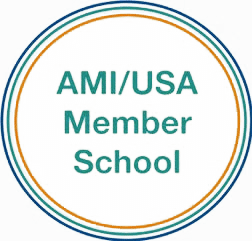 All of our campuses adhere to the most stringent Montessori standards and unite with the Association Montessori International.
All of our campuses adhere to the most stringent Montessori standards.

Good teachers and discipline in school. Having good experience with Ms. Dorella in particular.
So impressed with the vocabulary and social skills my 3 year old niece has learned since she started school. I was so confused when she told me about her favorite "sound." Turns out they introduce reading and writing by how letters sound and tracing their shapes. How cool is that? Keep up the good work!
My son is 3 years old and has been going here for the past year. He absolutely loves his teacher, I could not be happier with the learning practices and I have seen a huge improvement in my sons development. This school was definitely the right choice for our family.